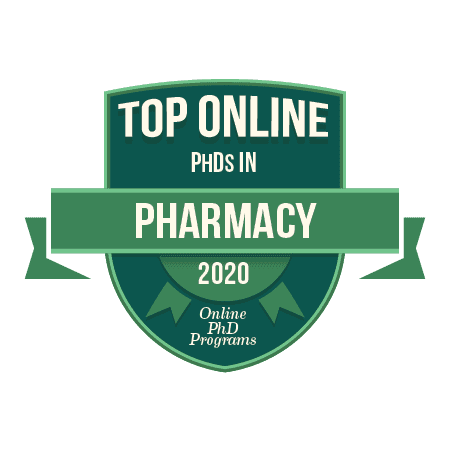 Committed to patient-centered pharmaceutical care and the prevention, reduction, and resolution of pharmaceutical drug-related problems, pharmacy offers many interesting and meaningful career options. The terminal degree in the field, a Ph.D. in pharmacy meets the educational requirements for many pharmacist, medical scientist, and professor jobs. Professionals can pursue this credential through online pharmacy school.
Featured Online Programs
Pharmacy careers are often interesting and lucrative, garnering median annual salaries ranging from around $80,000 for postsecondary teachers to around $128,000 for pharmacists. The U.S. Bureau of Labor Statistics (BLS) projects jobs for pharmacists to decline between 2019-2029, but the other science and teaching positions discussed below enjoy positive job growth projections.
Top 5 Ph.D. in Pharmacy Programs
| Rank | School |
| --- | --- |
| 1 | Lake Erie College of Osteopathic Medicine |
| 2 | MCPHS University |
| 3 | Shenandoah University |
| 4 | University of Colorado Denver/Anschutz Medical Campus |
| 5 | University of Florida |
What Is a Ph.D. in Pharmacy?
Unlike the more practical doctor of pharmacy (Pharm.D.) degree, the Ph.D. in pharmacy usually serves students interested in academic or research careers. Pharmacy Ph.D. programs typically take over four years to finish and entail 69-71 credits, including dissertation credits. Students often select a track or concentration, complete specialized coursework, and produce a dissertation involving original research.
Pharmacy Ph.D. graduates often work as professors, medical scientists, biophysicists, and biochemists. Pharmacy students interested in formulation or analytical science sometimes pursue careers in labs performing pharmacology, pharmacokinetics, or toxicology research.
Why Get a Degree in Pharmacy?
A Ph.D. in pharmacy leads to many benefits, including improved professional confidence and job performance. Some working professionals use this advanced degree to qualify for promotions. The following list outlines several benefits of attending online pharmacy school to earn a Ph.D.
---
"A Ph.D. in pharmacy leads to many benefits, including improved professional confidence and job performance."
---
Field Expertise: Comprising advanced courses and concentrations in specialized fields, online PharmaD programs help students develop high-level expertise.


Research Skills: Ph.D. programs include research methods courses and dissertations that cultivate skills in study design, data collection, analysis, and presentation.


Top Credentials: As a terminal degree, a Ph.D. fulfills or exceeds the educational requirements for most pharmaceutical careers.


Salary Advancement: PayScale reports that the average salary for pharmacy Ph.D. graduates exceeds the average for master of science in pharmacy graduates by 50%.


Diverse Career Opportunities: The research capabilities acquired and demonstrated in a pharmacy Ph.D. program can help graduates qualify for diverse scientific careers in various sectors and industries.
FAQ
| Question | Answer |
| --- | --- |
| Can you get a Ph.D. in Pharmacy? | Yes, some pharmacists and medical researchers earn a Ph.D. in pharmacy, while others pursue the four-year professional doctorate. |
| What is the difference between a Pharm.D. and a Ph.D. in Pharmacy? | Pharmacy Ph.D. programs focus heavily on research, require a dissertation, and usually take longer to finish than Pharm.D. programs. Pharm.D. programs emphasize experiential learning and typically take four years to complete. |
| How much does a pharmacist with a Ph.D. make? | The BLS indicates that pharmacists make a median annual salary exceeding $128,000. Ph.D. graduates hold the terminal degree in their field and often qualify for high-paying pharmacy jobs. |
| Do I need a Ph.D. to be a pharmacist? | Pharmacists need either a Pharm.D. or a Ph.D. to become pharmacists. Some positions may require additional professional certifications. |
Accreditation for a Ph.D. in Pharmacy
Accreditation indicates that a school meets high standards with respect to factors like faculty qualifications, academic rigor, and student learning outcomes. Only students at accredited schools qualify for federal financial aid, and many schools only accept degrees and transfer credits from accredited institutions. Schools may receive regional or national accreditation, with regional accreditation generally considered the more prestigious of the two.
The Council of Higher Education Accreditation oversees six regional accrediting agencies in the U.S., including the Middle States Commission on Higher Education, the Southern Association of Colleges and Schools Commission on Colleges, and the Northwest Commission on Colleges and Universities.
Programs may also receive specific accreditation. Prospective students considering on-campus or online pharmacy school should seek programs accredited by the Accreditation Council for Pharmacy Education (ACPE). Learners can verify a school or program's accreditation status through the Department of Education's Database of Accredited Institutions and Programs.
Courses for a Ph.D. in Pharmacy
Pharmacy Ph.D. curricula span core subject areas including pharmacology, statistics and research methods, and biopharmaceutics. They also include a dissertation. Dissertation projects require students to conduct and present original research in a field of choice, cultivating research, analysis, and presentation skills.
Ph.D. programs often feature curriculum tracks such as pharmacology and toxicology, clinical and experimental therapeutics, and pharmaceutical sciences. Students pursuing these concentrations may take specialized courses focused on particular skill areas, such as pharmacoepidemiology or pharmaceutical marketing.
The five courses described below represent a sample curriculum and may not appear in every pharmacy Ph.D. program.
Pharmaceutical Care Practice
This specialized course surveys multiple pharmaceutical care aspects, including best practices for promoting public health, protecting patient privacy and safety, and implementing quality initiatives. The course explores disease state management and examines common pharmaceutical practice issues, such as drug-use and interaction problems, adverse reactions, and drug choice and dosing. Pharmaceutical care practice courses may also require students to reflect on their own assumptions regarding pharmacy practice and care.
Research Methods and Principles
This core course develops students' practical, scientific, and statistical research skills. Enrollees study topics like key principles and practices for research design, sample and instrument selection, and subject access and requirements. This course also teaches students how to manage data, plan analyses, and write grants. Learners gain familiarity with common research problems and research career issues. Research methods courses often incorporate field experiences that encourage hands-on learning.
Social and Behavioral Aspects of Pharmacy Practice
This foundational course surveys the profession's development and growth from ancient times to the present. This course highlights the healthcare roles pharmacists play and the ways that education, professionalization, and various social and cultural developments have shaped pharmaceutics. Students also learn about laws and organizations affecting pharmacy practice and social and behavioral factors that influence drug therapy responses. Most Ph.D. in pharmacy programs require this introductory course and treat it as a prerequisite for other courses.
Pharmacoepidemiology
This interdisciplinary course integrates epidemiology and pharmacology knowledge. Enrollees learn about pharmacoepidemiology study methods, data sources, and treatment and outcome measures. Other topics covered include statistics, prevention of bias and confounding, analysis and regression, and results interpretation. Pharmacoepidemiology courses also teach students how to safeguard drug safety through surveillance and risk management practices.
Pharmaceutical Economics and Policy
Usually a core course, pharmaceutical economics and policy provides a foundational understanding of the pharmaceutical sector's economic structure and operations. Participants learn about the pharmaceutical industry's relationship to the larger healthcare system, exploring national and international policies influencing pricing and distribution. Course content may prove particularly relevant to enrollees pursuing administrative careers.
How Much Do Pharmacists Make?
According to the BLS, pharmacy Ph.D. careers typically pay well, yielding median annual salaries ranging from $80,000-$128,000. The 2019 median salary for postsecondary teachers stood at $79,540 as of May 2019 — nearly twice the $39,810 median salary for all occupations.
---
"…salary rates vary depending on credentials, experience, and location. Obtaining one or more of the many pharmacy credentials available can boost salary potential."
---
Pharmacy Ph.D.s who pursue research careers often make even higher salaries. Medical scientists and biophysicists and biochemists earn median salaries of $88,790 and $94,490, respectively. Pharmacist positions at pharmaceutical companies, retail stores, and medical facilities top the salary scale with a median annual salary exceeding $128,000. However, salary rates vary depending on credentials, experience, and location. Obtaining one or more of the many pharmacy credentials available can boost salary potential.
Career and Salary Outlook for Pharmacy Majors
Pharmacy students often choose between research, teaching, consulting, and community pharmacy careers. Medical scientists, biochemists, and biophysicists focus primarily on research activities such as study design, data analysis, reporting, and grant writing, while postsecondary teachers must balance research with teaching, advising, and administrative duties. Meanwhile, pharmacists often provide various health services directly to the public. See below for descriptions of common career paths for pharmacy Ph.D. graduates.
Source: BLS
Scholarships for a Ph.D. in Pharmacy
Eligible pharmacy majors can apply for scholarships based on factors like their level of study, academic performance, financial need, and identity. The following list outlines several scholarships for Ph.D. in pharmacy students.
American Foundation for Pharmaceutical Education Gateway Research Scholarship
Who Can Apply: Nominated U.S. citizens who have completed at least one year of their pharmacy degree program can apply. Applicants must submit transcripts demonstrating excellent academic performance, a relevant research topic idea, and two recommendation letters.
Amount:$5,000
Pharmaceutics Research Starter Grants
Who Can Apply: This scholarship awards recent or prospective pharmacy Ph.D. graduates planning to embark on faculty-level independent research careers. Applicants must submit a resume, a thesis project description, and letters of reference.
Amount: $100,000
AFPE Pre-Doctoral Fellowship Pharmaceutical Sciences
Who Can Apply: U.S. citizens and permanent residents enrolled full time in pharmaceutical science Ph.D. programs accredited by the ACPE may apply. Eligible candidates must have completed at least three semesters and be eligible to receive their Ph.D. within three years.
Amount: $15,000
Rho Chi Society First Year Graduate Fellowship
Who Can Apply: Rho Chi Honor Society members enrolled full time in pharmacy Ph.D. or professional programs at accredited U.S. schools may apply. Recipients must hold U.S. citizenship or permanent residency and demonstrate high personal, academic, and research achievements. Applicants must also submit three recommendation letters.
Amount: $7,500
Armenian American Pharmacists' Association Scholarship
Who Can Apply: Armenian-heritage doctoral students in pharmacy who live and attend school in New England may apply. AAPA only considers candidates in years 3-6 of their doctoral program. Applicants must submit transcripts, reference letters, and a cover letter that communicates financial need.
Amount: Varies
Top Online Ph.D. in Pharmacy Programs
---
1. Lake Erie College of Osteopathic Medicine
At LECOM, learners can earn a top online Ph.D. program in pharmacy in just four years. Online pharmacy school students analyze pharmacy drugs and healthcare, microbiology and immunology, and research methods and pharmacoepidemiology. The curriculum runs synchronously and asynchronously. Learners enter the program part of a 24-student cohort.
LECOM graduates can visit the college's alumni resources website to sign up for LECOM Connection. This newsletter features alumni accomplishments and news regarding job trends in the medical field. The college also provides alumni working in pharmacology with independent research findings and professional development opportunities.
Prospective students need bachelor's degrees that meet LECOM's prerequisite requirements. The college imposes a minimum 2.7 undergraduate GPA and does not ask applicants to submit recommendation letters or standardized test scores. All learners pay the same tuition regardless of residency. Eligible degree-seekers may qualify for federally backed grants and loans.
2. Massachusetts College of Pharmacy and Health Sciences
MCPHS's online pharmacy Ph.D. program features coursework in the principles of pharmaceutical care, pharmacotherapeutics practice, and advanced pharmacy practice experience. The latter requires a four-week clinical rotation. The degree comprises 37 credits, and full-time learners can graduate in just six semesters.
The Center for Professional Career Development (CPCD) offers degree-seekers numerous resources, including career exploration support, career competencies assessments, and networking advice. The CPCD curates the best career advice on a specialized Blackboard page. It also networks with top employers to ensure that pharmacy students find the best job opportunities.
MCPHS accepts new degree-seekers in the fall semester. Admission requirements for this online pharmacy school include a bachelor's degree, a pharmacist license, and employment as a pharmacist. Applicants submit personal statements of 500-1,000 words, plus recommendation letters. Full- and part-time students pay the same per-credit tuition rate, and MCPHS charges online learners a one-time technology fee.
3. Shenandoah University
Practicing pharmacists enroll in Shenandoah's top online Ph.D. program in pharmacy. Courses emphasize the latest information concerning diseases and treatment methods. Learners gain the skills to advise patients on numerous medications, and they build a sound understanding of the field's challenges and prospects. The program uses an asynchronous curriculum with recorded lectures and an intuitive learning management system.
Career and professional development advisors provide degree-seekers with career exploration guides, an internship board, and virtual career fairs. Academically gifted students who perform community service may qualify for membership with Omicron Delta Kappa, a highly respected honor society.
Applicants should work as pharmacists and possess their bachelor's in pharmacy and active licensure. Shenandoah awards transfer credit based on incoming learners' professional experience, and it accepts new students in the fall semester. The university recommends that students who need financial aid should submit the FAFSA to qualify for low-interest federal loans.
4. University of Colorado Denver Anschutz Medical Campus
CU Denver's online pharmacy Ph.D. program requires four years, featuring coursework in cell biology, patient-centered communication, and healthcare informatics. In their third year, learners complete a clinical capstone that involves analyzing mock medical records and making treatment recommendations.
The Skaggs School of Pharmacy and Pharmaceutical Sciences provides specialized career services to degree-seekers, such as personal branding advice, interviewing tips, and self-discovery assessments. These and other invaluable resources help students develop their skills and prepare to hunt for jobs. Learners at the online pharmacy school can access most of these resources by creating a Handshake account.
Prospective students can take a virtual tour. Applicants need a minimum C grade in all program prerequisites. Applicants also submit two recommendation letters and complete an on-campus or virtual interview. CU Denver awards over three dozen endowed scholarships, each of which requires FAFSA results.
5. University of Florida
UF's top online Ph.D. program in pharmacy uses a four-year curriculum with courses in principles of evidence-based practice, principles of drug therapy individualization, and sterile compounding. Students can customize the degree by selecting four electives from an approved list. The synchronous curriculum features videoconferencing to mimic the on-campus learning experience.
UF's Career Connections Center (CCC) offers students and alumni virtual events, the Career Readiness Guide, and highly trained career coaches. The CCC resource library curates guides detailing cover letter best practices and professional communication tips.
Applicants submit pharmacy college admission test results and need either an associate or a bachelor's degree in pharmacy. UF prefers prospective learners with a minimum 2.5 GPA and asks all applicants to submit two recommendation letters. The college of pharmacy awards up to $10,000 to eligible degree-seekers, and these awards do not require separate applications.