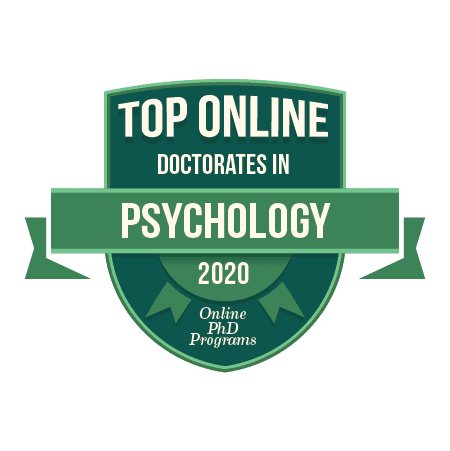 The 20 Best Online Doctorates in Psychology 2020 provides quality education programs that you can access from almost anywhere.  
If you're considering taking the next step in your psychology career, earning your Doctorate in Psychology can open up many opportunities. Doctoral programs can qualify you for higher-paying positions, independent practice, and even prepare you to apply for state licensure.
Earning a degree while balancing your current employment and other scheduling obligations isn't easy, but many online programs allow you to study from anywhere with increased scheduling flexibility. The 20 Best Online Doctorates in Psychology 2020 are all accredited programs that can help you to build on your previous education while developing skills that will make you a more effective psychologist. 
Best Online PhD in Psychology 2020
Liberty University
Regent University
Loyola University Chicago
University of the Cumberlands
Texas Tech University
The University of Texas at Austin
Michigan State University
Duquesne University
Felician University
Grand Canyon University
FINDING AN ONLINE DOCTORATE IN PSYCHOLOGY 
An online Doctorate in Psychology can prepare you for careers in many different settings, from the government to non-profit to educational environments. Investing in your career as a psychologist can be a worthwhile choice. According to the
Bureau of Labor Statistics
, psychologists made a median salary of $79,010 in 2018. From 2018 to 2028, the employment of psychologists is predicted to increase by 14%, which is a much faster growth rate than the average for other occupations. This growth is due to increased need for psychological services in settings like schools, social service agencies, mental health centers, and hospitals. By 2028, psychologist employment should have grown from 181,700 to 207,800. 
These online degree programs allow you to pursue your degree without necessarily having to relocate for school. Many of these programs are designed with working adults in mind, and most feature asynchronous online courses so that you can log in and do your work when it works for your schedule. Some of these programs can be completed entirely online with no on-campus residency requirements, while others use residencies and intensives to provide valuable in-person learning opportunities. When considering these programs, think about whether you plan to apply for your license; some of these programs prepare you for licensure, while others are more research-based and are not intended for licensure paths. You'll also find many different concentrations and specializations that can allow you to focus on your area of study.  
RANKING THE 20 BEST ONLINE DOCTORATES IN PSYCHOLOGY 2020
While you're on your way to earning your Ph.D. or Doctorate within your field, the editors at
Online PhD Programs
are already practicing doctors of their craft: ranking the best online Ph.D. programs. To be featured on our annual rankings, online doctorates must satisfy four coinciding requirements: accreditation, research and scholarship doctorate certification, NSF recognition, and institutional association with peer-reviewed academia. Each degree is then ranked using the information provided through the National Center for Education Statistics and the U.S. Department of Labor's
Occupational Outlook Handbook
. The data collected is scored through a series of weighted categories to represent seven crucial aspects of what makes an online doctorate valuable to future students. Online program quality and presence are joined by industry salaries, student reviews, degree exclusivity, costs, and completion rates to determine the best online doctorates available. For a comprehensive breakdown of how we categorize and source data, please visit our
methodology
page. 
#1. LIBERTY UNIVERSITY
Liberty University's
Ph.D. in Psychology – Industrial/Organization Psychology
is a 60-credit-hour degree program that is delivered entirely online. Through this program, students acquire training in the study of human behavior in organizations and for the workplace, preparing them to make a difference in their professional careers. Program graduates can hold several different positions, including independent consultant, researcher and writer, and organization mentor or consultant positions. During this program, students will take courses such as Psychological Research and Biblical Worldview, Teaching of Psychology, and Theories and Research in Industrial/Organizational Psychology. 
Liberty University is located in Lynchburg, VA, but the university educates students all over the world with its online education programs. Liberty first began its online program in 1985, and with the evolution of the internet, the university offered Christian college degree programs online in 1999 and 2000. Today, Liberty offers degree programs entirely online. With its eight-week-long courses, students can quickly progress through their degrees, and students may transfer up to 15 credits toward their programs. Liberty doesn't just make education accessible; the university also makes education affordable and has frozen tuition rates for undergraduate, graduate, and doctoral programs for the past four years. 
Format: Online
#2. REGENT UNIVERSITY
Regent University offers a
Doctor of Education – Educational Psychology
program that prepares students to hold leadership positions. Program graduates may go on to work as university faculty, curriculum, and instruction specialists, and even as school district administrators. Students progress through this 66-credit-hour program in eight-week-long course sessions. They will learn about topics such as how to create environments conducive to learning, the psychological background of learning, brain research, teacher education, and more. This program is offered online, making it ideal for students who may have professional and family obligations to balance while earning their degrees. 
Founded in 1978, Regent is a Christian university located in Virginia Beach, VA. The university consists of seven schools and two colleges and offers both undergraduate and graduate degrees. Students average 36 years of age and may study on a full-time or part-time basis. In addition to the university's on-campus and online programs, students may also pursue study abroad opportunities in Russia and other locations. Regent students have gone on to be recognized as Teacher of the Year more than 850 times, and the
U.S. News & World Report
recognized Regent as having the fourth-best online graduate education programs in 2019. 
Format: Online
#3. LOYOLA UNIVERSITY CHICAGO
At Loyola University Chicago, students can pursue an
Ed.D. in School Psychology
degree that's delivered in a blended format. Students will take online blended-format courses during the fall and spring semesters, then take blended online or on-campus courses during the summers. Students enter and progress through the program in cohorts, which creates a supportive environment. During their study, students can expect to take courses such as Evidence-Based Interventions, Communicating Research Findings, Substance Abuse Counseling, and Family Therapy. Students enrolled in this degree program also have the opportunity to earn additional Licensed Professional Counselor or Licensed Clinical Professional Counselor Illinois certifications, giving them increased value for their education.
Located in Chicago, Loyola University Chicago was founded in 1870 as St. Ignatius College. Today, over 17,000 students attend the university, which is one of the largest Jesuit, Catholic universities in the country. The university has four campuses, including the John Felice Rome Center in Italy, and offers more than 80 undergraduate majors, 80 minors, and 170 graduate, professional, and certificate programs. These degrees and programs are offered across the university's 14 schools, colleges, and institutes, and Loyola is staffed by more than 4,000 faculty and staff. The
U.S. News & World Report
consistently ranks Loyola among the top national universities, and this university is one of just 8% of American institutions to have a Phi Beta Kappa honor society. 
Format: Online
#4. UNIVERSITY OF THE CUMBERLANDS
The University of the Cumberlands offers a
Psy.D. in Clinical Psychology
program that prepares students for psychology degrees working with diverse populations. Program graduates will be ready for a variety of positions, including a psychotherapist, faculty member, consultant, researcher, and administrator roles. This program is offered in a blended format, with students spending three years in residence at the university's Northern Kentucky campus. Students will take face-to-face courses offered on weekends once a month as well as courses online in the traditional full-semester format. Students also enroll in nine credit hours during their pre-doctoral internship year. Program graduates go on to work in many different settings, including private practice, social services, hospitals, and universities. 
The University of the Cumberlands has campuses in both Williamsburg and Florence, KY. Founded in 1888 as the Williamsburg Institute, the university became the University of the Cumberlands in 2005. Today, more than 11,000 students attend the university, and the residential student body represents 36 different states. The University of the Cumberlands offers both associate's, bachelor's, master's, and doctoral degrees, as well as executive master's degrees and education certifications. More than 9,000 graduate students attend the university each year. This liberal arts university challenges students to discover, engage, analyze, and evaluate throughout their education and careers. 
Format: Online
#5. TEXAS TECH UNIVERSITY
Texas Tech University's
Ph.D. in Educational Psychology
degree program is a hybrid program that prepares students to teach in colleges or universities or to enter into research positions. The program is offered in a face-to-face format, but some coursework is also provided online. Students also attend one-week-long intensive summer sessions on campus. This is a 91-credit-hour program, though students may transfer up to 30 hours of coursework that they've completed in the last seven years; students must have earned a B or better in transferrable coursework. Students are encouraged to start this degree program in the fall semester, though applications are accepted and considered throughout the entire year. Texas Tech offers a variety of scholarships and research assistantships to help students afford their education.
Located in Lubbock, Texas, Texas Tech was founded in 1923. In the fall of 2018, more than 38,000 students were enrolled at Texas Tech, including 5,835 graduate students. Students can choose from more than 150 undergraduate, 100 graduate, and 50 doctoral degree programs. In 2017-2018, over 1,300 students also decided to study abroad through one of the many opportunities offered. The university's College of Education produces approximately 500 new teachers every year and has a 100% teacher certification pass rate. Over 2,200 students pursue degrees through the College of Education, which offers two bachelor's, ten master's, and nine doctoral degree programs. 
Format: Online
#6. THE UNIVERSITY OF TEXAS AT AUSTIN
The University of Texas at Austin's
Ph.D. Program in Psychology
is a unique program that allows students to take various paths in completing their doctoral degrees. Most students enter this program with a bachelor's degree, while some have already earned a master's degree from another university. Some students earn a master's degree while progressing toward their doctorate, but other students only receive their doctorate. Students may choose to specialize in Behavioral Neuroscience, Clinical Psychology, Cognitive Science, Social Psychology, Evolutionary Psychology, Developmental Psychology, and more. The program consists of courses, seminars, reading, and research, and students must complete the degree within seven years of beginning the program. 
Founded in 1883, the University of Texas at Austin is one of the largest research universities in America. Over 51,000 students attend the university, where they learn from 3,000 teaching faculty. The university encompasses 18 colleges and schools, and the student body represents all 50 states. At UT Austin, students can choose from 156 undergraduate degree programs in more than 170 fields of study, as well as 237 graduate and doctoral degree programs. The university also offers 400 study abroad programs. 
Format: Online
#7. MICHIGAN STATE UNIVERSITY
At Michigan State University, students can pursue a
Ph.D. in Educational Psychology and Educational Technology
degree in a hybrid format. This program is designed to educate and prepare educational leaders who have a deep understanding of how learning and development theories can affect and transform learning environments. Students complete the majority of this five-year program online. Students who can take leave from their jobs can elect to spend one semester fulfilling residential coursework. Graduate assistantships and fellowships may be available during that on-campus semester to help students afford their education. Program graduates will be prepared to assume leadership roles in a variety of educational environments, including in K-12 schools, virtual schools, higher education systems, and community colleges. 
MSU was founded in 1855 as the Agricultural College of the State of Michigan. Today, the university educates over 50,000 students each year. More than 5,700 faculty and academic staff help to provide the quality education that MSU is known for. The university offers over 200 undergraduate, graduate, and professional study programs. Students can also choose from over 275 study-abroad programs through 60 countries. The
U.S. News & World Report
has recognized MSU as being among the top universities in the nation; MSU is ranked No. 85 among the top-100 universities in the country and No. 35 among the top public universities in the country. 
Format: Online
#8. DUQUESNE UNIVERSITY
Duquesne University offers a
Psy.D. in School Psychology
program that provides students with a comprehensive psychology education. Students learn the nuances of evidence-based practices, but they also learn how to account for local contextual variables when they apply these practices in an education setting. During this 91-credit degree program, students study and address an applied-practice problem during a year-long Applied Project. Program graduates are eligible to become licensed for independent practice. This program prepares students to work in settings, including schools, hospitals, and child agencies or clinics. Among other requirements, program applicants must have a minimum 3.0 GPA in their undergraduate work and must submit a letter of interest, three letters of recommendation, and GRE scores. 
Located in Pittsburgh, Duquesne University was founded as a Catholic college in 1878. The university has grown to serve nearly 9,500 students each year and is the only Spiritan university in the country. Duquesne offers a 14:1 student-to-faculty ratio, allowing students to receive personal attention from their faculty throughout their education. About half of the classes have just 20 or fewer students, which further allows faculty to engage with students. This university has also received recognition for the quality of the education it offers. The
U.S. News & World Report
ranked Duquesne No. 11 in its national Catholic universities ranking and No. 40 in its Best Value Schools ranking. Additionally, the
U.S. News & World Report
also ranked Duquesne as No. 80 in its Best Colleges for Veterans category. 
Format: Online
#9. FELICIAN UNIVERSITY
Felician University's
Doctor of Counseling Psychology
program is available on campus, as a hybrid program, or entirely online. The program is intended for students who wish to become entry-level health service psychologists, and program graduates are also eligible for licensure in New Jersey. During the program, students complete a one-year full-time internship or a two-year half-time internship. Students will take courses such as Cognition and Affective Basis of Behavior, Statistics for Psychology, Psychometrics, and Management of Professional Practices. Students can join the program in the fall semester and can complete the degree within four to five years. 
The Felician Sisters founded Felician University in 1942. Today, the university is the only Franciscan university in New Jersey. This co-educational liberal arts university educates about 2,300 undergraduate, graduate, and adult-studies students each year. The university has campuses in Rutherford and Lodi, NJ, and the National Register of Historic Places recognizes the Castle on the Rutherford campus. Felician University offers more than 55 majors, minors, and concentrations across its four academic schools. Students enjoy a 13:1 student-to-faculty ratio that allows for personalized support from faculty. Additionally, 73% of classes have fewer than 20 students. 
Format: Online
#10. GRAND CANYON UNIVERSITY
Grand Canyon University's
Doctor of Philosophy in General Psychology with an Emphasis in Cognition and Instruction
degree program prepares students to work with diverse populations. The program follows a research-based approach, and students explore the principles of learning in both theory and practice. Students begin working on their dissertation in the very first course of this 60-credit-hour program. The program is available online, which allows students to continue working while pursuing a degree. These online courses frequently begin, allowing students to begin their education without delay. Working professionals who prefer to learn in-person can also take GCU's evening programs, which are held one night per week.
GCU was chartered in 1949 and is a private Christian university with campuses in Phoenix and Northwest Phoenix. Today, GCU offers online degree programs for working professionals, and more than 70,000 students have pursued these online degrees so far. Students can earn bachelor's, master's, and doctoral degrees online in fields including education, business, liberal arts, and nursing and the health sciences. Students may also choose to pursue degrees offered in hybrid formats, combining online learning with in-person education. GCU has offered these online programs for over a decade. 
Format: Online
#11. TOURO UNIVERSITY WORLDWIDE
Students who enroll in the
Doctor of Psychology in Human and Organizational Psychology
program through Touro University Worldwide can complete the program entirely online with no residency requirements. Students can focus on three areas: Organizational Psychology, Leadership Psychology, or Industrial Psychology. They can also complete a dissertation in an area of their choosing. Program applicants must have a master's degree and a cumulative master's GPA of 3.4 or higher. No GRE scores are required for admission to this program, but students must submit a biography, career plan, and statement of their goals in pursuing this degree. 
The Touro education system incorporates Jewish-sponsored, non-profit educational institutions. Touro University Worldwide's parent institution is the Touro College and University System. Touro offers students a network of both on-ground and online campuses that create a global-minded approach to a liberal arts education. Through TUW, students can access cutting-edge technology, highly-qualified faculty, and excellent administrative services throughout their education. TUW offers bachelor's, master's, and doctoral degree programs. This university is also military-friendly and provides tuition discounts to veterans, reserve military, and active duty service members and their families. 
Format: Online
#12. CAPELLA UNIVERSITY
Capella University's online
Psy.D. in Clinical Psychology
program prepares students to pursue their licensure as clinical psychologists. During this program, students will focus on areas including mental disorders, psychotherapy, and clinical training. The courses are offered both online and in-person, and students attend face-to-face residencies that allow them to connect with their peers and faculty. Additionally, students complete internships, a clinical practicum, and research, all of which prepare them for the challenges they will face in a real-world clinical setting. This degree's curriculum has been designed around APA guidelines, ensuring it prepares students to pursue licensures in many states. 
Capella was established in 1993 to provide education programs tailored to the unique needs of adult learners. Today, Capella offers 53 degree programs. More than 38,000 students currently attend the university, and students average 39 years in age. Understanding that students have different schedules and learn better in different ways, Capella offers two learning paths. With the GuidedPath, students work toward meeting weekly deadlines and follow a more structured route. Alternatively, the FlexPath option gives students full control of their learning pace, so they can finish a course and move on to the next only when they're ready. Capella students have access to a support team of faculty, advisors, and mentors who help ensure that students get the most out of their Capella education. 
Format: Online
#13. NORTHCENTRAL UNIVERSITY
Northcentral University offers a
Doctor of Philosophy in Psychology
degree program. The 60-credit-hour degree takes approximately 48 months to complete. Students can choose from specializations such as Healthy Psychology, Gender Diversity Studies, and Trauma and Disaster Relief. This online program features courses that start every Monday, allowing students to begin their degree program almost immediately. Classes are just one student in size, so students can gain excellent advice and information from their mentoring professors. Students may also be eligible for one of the six new full-tuition Legacy Scholarships awarded in the fall. 
Founded in 1996, Northcentral offers degree programs to working professionals all over the world. These degree programs have no physical residency requirements and are built on the power of mentoring. Northcentral offers masters and doctoral degrees in marriage and family therapy, technology, health sciences, business, education, and psychology. The university also offers bachelor's degrees in business, education, and psychology. All Northcentral faculty have doctoral degrees, and with class sizes of one, students have unique access to faculty. Northcentral's programs are designed with the scheduling flexibility that working professionals need, allowing them to progress toward their degrees while still maintaining family and work commitments. 
Format: Online
#14. CALIFORNIA INSTITUTE OF INTEGRAL STUDIES
The California Institute of Integral Studies offers an
Integral and Transpersonal Psychology Online Ph.D. Program
. This 36-unit program takes approximately three years to complete and is provided online with twice-yearly intensives. The degree program's whole-person approach to psychology prepares students with the skills and research experience they'll need for professional positions. Students have access to a peer-reviewed journal partially produced by interns, senior field scholars who help to guide research, and more. In addition to online study, students also attend residential intensives in the San Francisco Bay area, which allows them to engage with both their peers and faculty. 
Dr. Haridas Chaudhuri founded CIIS in 1968 as a branch of the Cultural Integration Fellowship. Over more than 40 years, CIIS has offered cross-cultural studies with an emphasis on Asian religions and cultures. Today, CIIS offers programs in subjects such as art, religion, cultural anthropology, and health studies. In the fall of 2018, CIIS' enrollment was nearly 1,500 students,  9% of whom were international students. At CIIS, students can earn bachelor's, master's, and doctoral degrees and have access to a library housing more than 158,000 books and over 14,000 electronic journals. 
Format: Online
#15. ALASKA PACIFIC UNIVERSITY
At Alaska Pacific University, students can pursue a
Doctor of Psychology in Counseling Psychology
degree. This program is designed for students who have a master's degree and who wish to become licensed psychologists in Alaska. During the program, students complete synchronous work through online classes in the evenings.
Additionally, students attend on-campus intensives every six weeks that help to prepare them for internship placement. APU also offers a variety of scholarships for psychology students, including the James C. Parsons Memorial Scholarship, the Cook Inlet Region Inc. Scholarship Fund, and the Chenega Corporation Scholarship. 
APU is located in Anchorage, Alaska, and offered its first classes in 1960. APU offers associate's, bachelor's, master's, and doctoral degrees as well as certificate programs. Program areas include Alaska Native Governance, Nursing, Community Health, and Alaska Rural Management. For students who aren't yet sure which path they would like to pursue, APU's Non-Degree Seeking admissions option allows students to take college classes without enrolling in a full degree program. 
Format: Online
#16. UNIVERSITY OF ARIZONA GLOBAL CAMPUS
UAGC's Doctor of Psychology program is an online degree that prepares students to improve the emotional and mental health of others through their professional work. Students progress through this 62-credit-hour program in courses between six-to-nine weeks in length. During the program, students can choose from six specializations, including Educational Leadership, Industrial Organizational Psychology, and Sport and Performance Psychology. In addition to core and specialization courses, students also complete a capstone seminar and an Applied Doctoral Project.
UAGC works to provide students with accessible, affordable, innovative, high-quality degree programs. Currently, the university offers more than 80 online degree programs that students can access anywhere, with no on-campus residency requirements. Courses are delivered in five- or six-week terms, rather than following a semester format, allowing students to progress through their coursework quickly. Because the classes are offered online asynchronously, students can log in at any time of day, so they can continue to meet their personal and professional obligations while simultaneously investing in their education. Thanks to UAGC's online learning platform, students can communicate with faculty and their peers, read coursework, and submit assignments. 
Format: Online
#17. FIELDING GRADUATE UNIVERSITY
At Fielding Graduate University, students can earn a
Clinical Psychology Ph.D.
degree delivered uniquely. Students attend National Sessions, which are week-long events that take place throughout the country. During these sessions, students attend workshops and seminars, hear from guest speakers and forums, and attend student-led learning events and dissertation committee meetings, alumni presentations, guest presentations, and more. Often, graduation ceremonies also occur at these sessions. This program is only available to students who live in the United States or Canada. 
Located in Santa Barbara, CA, Fielding educates nearly 1,000 students every year. Students range in age from 23 to 82 and enjoy a 5:1 student-to-faculty ratio. The university was founded in 1974 by three higher-education administrators and educators who realized that changing demographics was also changing the higher-education field. As a result, Fielding's degree programs are designed for adult students who are already mid-career and who learn differently than youth. Fielding's faculty have extensive real-world experience and scholarship that allows them to create quality-learning experiences and cross-program collaboration opportunities for students. 
Format: Online
#18. THE CHICAGO SCHOOL OF PROFESSIONAL PSYCHOLOGY
The Chicago School of Professional Psychology's
Ph.D. in International Psychology with a concentration in Trauma Services
program is delivered online, making it suitable for students balancing a full-time job with their education. Students progress through the program in online cohorts, which helps to create a supportive network. In addition to online coursework, students participate in two nine-day international Field Experiences during years two and three of the program. Program graduates will have the skills needed to create programs addressing mental health issues resulting from trauma. Graduates will be prepared to work in a variety of settings, including nonprofit, education, government, international help organizations, and more. 
Founded in 1979, TCSPP offers over 20 degree programs today as well as many international experiences for its 4,300 students. TCSPP has campuses in Chicago, New Orleans, Dallas, Southern California, and Washington, D.C., and also offers courses online. TCSPP has 20 global academic partners and is, therefore, able to offer its students many valuable international and study abroad opportunities, helping them to develop a global perspective within their education. During their studies, students gain relevant real-world experience, and through the school's fieldwork, students serve the global community for over 1.2 million hours annually. Many students report that working with underserved populations during their degree programs is a life-changing experience. 
Format: Online
#19. SAYBROOK UNIVERSITY
Saybrook University's online
Ph.D. in Psychology
degree program prepares students for professional careers in education, community health centers, prisons, non-profits, and other settings. Students may choose to specialize in Consciousness, Spirituality, and Integrative Health; Creativity Studies; Existential, Humanistic, and Transpersonal Psychology; or in Psychophysiology. In addition to taking courses online, students also attend two five-day-long conferences on campus each year. Additionally, students must attend a one-time, two-day residential orientation when they begin their studies. Students who enroll in this degree program full-time can expect to complete the program within five to six years.
Located in Pasadena, CA, Saybrook University features a College of Social Sciences and a College of Integrative Medicine and Health Sciences. Its residential conferences complement Saybrook's online learning opportunities. Students and staff come together for five-day events in Monterey, CA, at the beginning of each semester. These conferences are attended by more than 300 people and feature over 150 courses and events. During the conferences, students can engage with students and faculty from all over the world. These unique events create an engaging, personal, supportive environment that allows for more in-person learning time than students traditionally find with other entirely-online or hybrid degree programs. 
Format: Online
#20. SOFIA UNIVERSITY
At Sofia University, the
Ph.D. in Transpersonal Psychology
program takes approximately three years to complete and is delivered both online and in low-residency formats. Students can choose concentrations in Applied Transpersonal Psychology, Consciousness and Creativity Studies, and Cognitive Psychology and Neuroscience. While coursework is delivered online, students are expected to attend two in-person seminars in Northern California each year. Students may also decide to participate in an optional community praxis sequence. During the program, students will study research methods to prepare for their dissertation work.
Sofia University, located in Palo Alto, CA, was founded in 1975 as the Institute of Transpersonal Psychology. While created to educate psychologists, the university has since expanded to offer degrees in computer science and business. Sofia offers a variety of bachelor's, master's, and doctoral degrees. Students hail from many different professional backgrounds, including the health, law, theology, and education fields, and they attend Sofia to achieve career development and personal growth and to learn how to better contribute to their communities. Sofia University works to keep education affordable, and its tuition rates are less than those at comparable institutions. 
Format: Online